Houston Property Management
We manage your assets as if you lived there.
Easy as PIE - PROFESSIONAL, INTEGRITY, EXPERTISE
PROFESSIONAL property managers - full time, not part time, involved in the industry, with professional and active memberships, and earned property management specific designations.
INTEGRITY that we will not waiver on. Always above board, always honest with our clients, whether the news is good or bad.
EXPERTISE over decades that allows us to handle your property and anything that comes up. We don't have to figure it out - we have been there and done that.
Why Work with Terra Residential Services
Benefits of TERRA Residential Services, Inc. CRMC®
Automated Rent Collections & Payments
Automated Record Delivery
Aggressive Marketing Techniques
Minimized Vacancy & Turn over
Reserves Kept on Hand for Maintenance
Property Maintenance Follow Up
Detailed Inspection Reports
Most Tenants Rent More Than 3 Years
For information about our Houston property management company, please fill out the form on the right of this page.
Inquire About Our Services
713-568-1775
Houston Property Management and Leasing Services
Marketing and Leasing from a Houston property manager you can trust.

Our procedures help to ensure the quickest rentals to the best tenants.

Advertising typically begins an average of 25 days before the home is vacant.
Using current rent comparable and our experience helps produce higher rents and less vacancy.
Your property is listed in the REALTOR MLS, and numerous websites including rentalhomesplus.com, freerentalsite.com, texasrealestate.com, realtor.com, har.com, chron.com, zillow.com, our own website, and others.
Yard signs are placed on the property where appropriate.
Our quality long term reputation for well managed homes obtains more showings from other agents.
Our rigorous tenant screening assists in finding better tenants.
Professional comprehensive forms, developed over the years as one of the busiest Houston property management companies protect your interests and comply with applicable laws.

Active Property Management in Houston

We are not just "rent collectors", we are Houston property managers, and we earn our fees each month.

We take pictures of the property before move in and at move out.
Rents are due on the first and late after the third.
We personally call all tenants owing rent after the 5th.
We send 3 Day Notices to Vacate if rent not received by the 10th.
We file eviction in the middle of the month if the rent is still not paid.
We attend all court proceedings on your behalf.
We enforce all provisions of the lease.
We handle all Home Owners correspondence and/or violations.
We have a third party perform a walk through property report on all our homes at least once a year and provide written reports with pictures.

Maintenance and Repairs

Tenants can request repairs through our website or for emergencies through our telephone system.
We do not have an in-house maintenance department that needs to generate work.
We use highly qualified, yet reasonably priced, reliable, insured, and licensed (if required) vendors.
If necessary or unusual, we obtain competitive bids.
No repair work will be performed over $300 without your permission unless an emergency.

Client Communications, Accounting, and Monthly Statements

We use a professional, highly rated, solid accounting software and management database program.
We contact our clients for all major decisions, new tenants, and repairs over $300.
We provide electronic monthly statements through our secure Owner Portal on our website.
Our detailed monthly statements show all income and expenses and include details of all repairs.
We provide simple year end summary statements and a 1099, making tax preparation a snap.
Your monthly statement will show rent (if occupied) or you will have a note from us included as to what steps we have taken to collect the rent.
Your proceeds are electronically credited to your bank account through ACH.
We accept electronic payments and credit cards to ease make ready and other major item costs.

Fees

Our management fee on most properties is ten percent of the collected rent. If we don't collect the rent, we do not get paid.
We do not charge an "administrative fee" to our clients on normal repairs.
We charge one month's lease amount as a leasing fee on a twelve month or longer lease. This includes all advertising, marketing, and fees paid to any leasing agents.
We charge twenty percent of one month's lease amount to execute a lease renewal which includes researching rent comparable, reviewing the tenant's payment history and the condition of the property, preparing the renewal lease, negotiations, and obtaining all signatures for the executed document.
That's all the fees most of our clients have or will ever see.

If you are looking for the best Houston property management company to either find you an investment property and/or manage your investment property or home in Houston, you have come to the right place.
Houston Area Information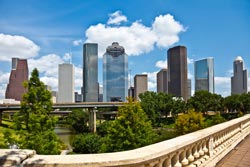 Houston is the most populous city in the U.S. state of Texas and the fourth-most populous city in the United States. With a census-estimated 2016 population of 2.303 million within an area of 667 square miles (1,730 km2),. It is also the most populous and second largest (Jacksonville is first at 747 sq mi) city in the southern United States, and the seat of Harris County. Located in Southeast Texas near the Gulf of Mexico, it is the principal city of the Greater Houston metro area, which is the fifth-most populated MSA in the United States.
Houston was founded on August 30, 1836, near the banks of Buffalo Bayou (now known as Allen's Landing) and incorporated as a city on June 5, 1837. The city was named after former General Sam Houston, who was president of the Republic of Texas and had commanded and won at the Battle of San Jacinto 25 miles (40 km) east of where the city was established. The burgeoning port and railroad industry, combined with oil discovery in 1901, has induced continual surges in the city's population. In the mid-20th century, Houston became the home of the Texas Medical Center—the world's largest concentration of healthcare and research institutions—and NASA's Johnson Space Center, where the Mission Control Center is located.
Houston's economy has a broad industrial base in energy, manufacturing, aeronautics, and transportation. Leading in health care sectors and building oilfield equipment, outside New York City, Houston has more Fortune 500 headquarters than any other U.S. municipality within its city limits. The Port of Houston ranks first in the United States in international waterborne tonnage handled and second in total cargo tonnage handled. Nicknamed the "Space City", Houston is a global city, with strengths in business, international trade, entertainment, culture, media, fashion, science, sports, technology, education, medicine, and research. The city has a population from various ethnic and religious backgrounds and a large and growing international community. Houston is the most diverse city in Texas and has been described as the most racially and ethnically diverse major metropolis in the U.S. It is home to many cultural institutions and exhibits, which attract more than 7 million visitors a year to the Museum District. Houston has an active visual and performing arts scene in the Theater District and offers year-round resident companies in all major performing arts. Source From Wikipedia
Areas We Serve