Giving Back
Terra Residential
Helping The Community Where We Can.
Groups We Support
Camp Hope Houston – PTSD Foundation of America
The Mission of the PTSD Foundation of America is to bring hope and healing to Combat Veterans and their families suffering from the effects of combat-related Post Traumatic Stress.
We do this by taking a whole-person approach, offering evidence-based peer-to-peer mentoring, both on an individual basis and in group settings. In addition, our programs and services are free to the Veteran and their family so that the focus remains on their journey to healing.
We take a collaborative approach to raising awareness of the increasing needs of the military community by working with government agencies, service organizations, churches, and private sector businesses to combine resources.
By taking our message to public events, media outlets, social media, and service organizations we can more effectively reach Veterans in crisis and make life-saving impact on the Veteran community.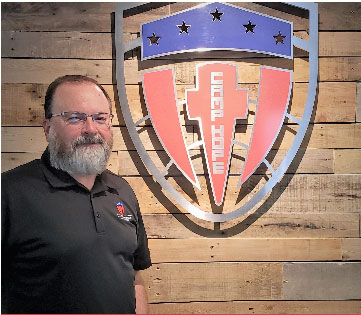 Executive Director – David Maulsby
In 2009, David began the mission of the PTSD Foundation of America by walking the streets of Houston finding homeless Vets, reaching one at a time. As an ordained Minister, David brought his love of God, his strong faith, and steady leadership to serve and support our country's Veterans and their families. He has provided the leadership to save lives and build this organization fueled by his love for this country and those who serve.
How To Create Your Own Fundraising Page With Camp Hope
Donation Form
The 100 Club – Houston, TX
The 100 Club is a 32,000-member non-profit organization that began in 1953, which provides financial support to the dependents of law enforcement officers and firefighters who are killed or seriously injured in the line of duty in 32 counties surrounding Houston.